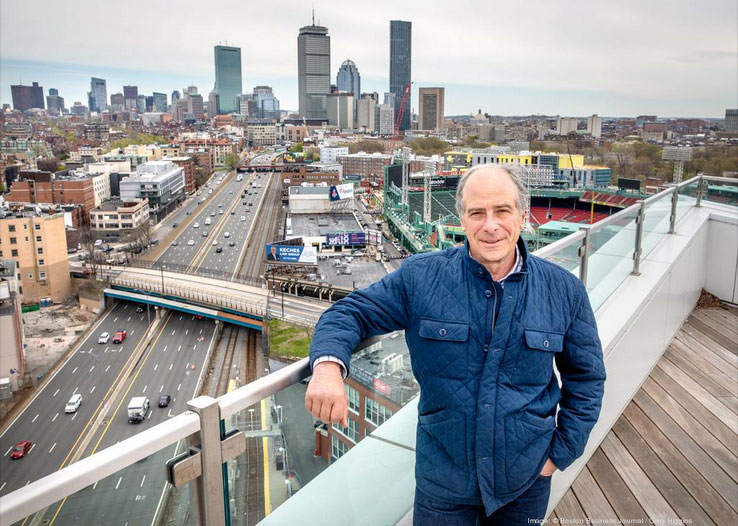 Developer John E. Rosenthal's long-envisioned Fenway Center will house nearly 1 million square feet of lab space above the Massachusetts Turnpike.
---
These days, it seems every new development proposal in the Greater Boston region has one central component: lab space. It's enough to make some wonder if the region could soon suffer from a lab glut.
But developers say the region is just getting started — in fact, that it hasn't grown fast enough for the nearly 7 million square feet of demand from life-science users. That's up from the 1.9 million square feet of demand from just a year ago, according to a panel this week hosted by real estate industry group NAIOP Massachusetts.
"We're only in the second inning of a nine-inning game of science," said Bob Coughlin, managing director of JLL's life-science industry practice in Boston and formerly CEO of the Massachusetts Biotechnology Council. "People will say we're going from the Golden Age to the Platinum Age of innovation. We're only scratching the surface."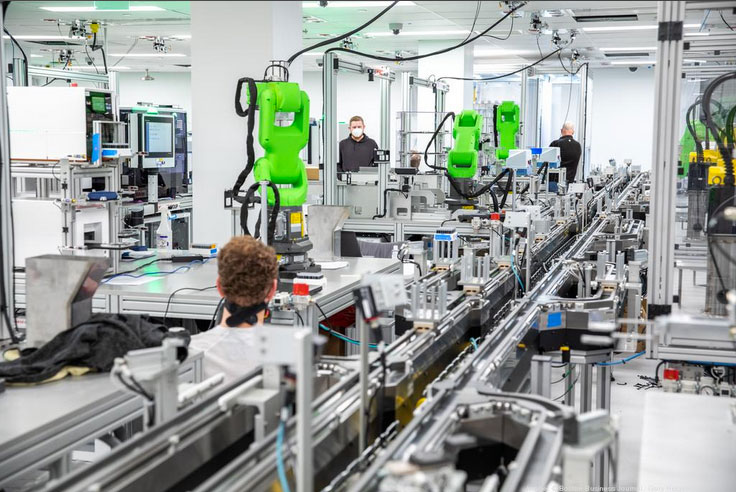 Ginkgo Bioworks designs customized microbes for life sciences companies and research institutions. It's expanding in Boston's Seaport District in what was formerly the Au Bon Pain headquarters.
---
A major driver of lab space demand is funding and an expanding drug-development pipeline.
Funding sources include the National Institutes of Health, venture capital firms, partnerships, initial public offerings and other sources including private equity, Coughlin said. The Greater Boston metro area has captured 31% of all venture capital dollars going to U.S. life-sciences companies since the start of 2020 — and more money was invested in the region's biotechs in four months than in any other year before 2020, according to JLL research.
Indeed, the region's life-sciences companies drew in $26 billion in funding last year, and $15.5 billion so far this year, up from $12.5 billion from 2019, the research shows.
Some 215 drugs are on track for commercialization, and some 1,052 were in the pre-clinical stage last year — up 52% in the past five years, Coughlin said.
"Through April of 2021 we're already exceeding all sorts of expectations," Coughlin said. "Anytime there's an influx of cash, or anytime there's an advancement of a product in clinical trials, historically within six months they need more space."
The region's developers are racing to meet the needs of biotech companies, particularly following a pandemic year where demand for the commercial office market dropped precipitously. Longtime biotech developers such as BioMed Realty Trust (now owned by investment giant Blackstone Group) and Alexandria Real Estate Equities have a number of projects both within the ever-popular Kendall Square neighborhood in Cambridge, as well as multiple surrounding communities.
The demand is also driving some developers who haven't historically been in the life-science space to go there. Tishman Speyer, for one, in recent years has partnered with private equity company Bellco Capital LLC to create the biotech-focused Breakthrough Properties, and has leased 250,000 square feet at 105 W. First St. in South Boston to Cambridge biotech CRISPR Therapeutics. Tishman Speyer is also the developer for the first phase of Harvard's Enterprise Research Campus, the 14-acre, 900,000-square-foot first phase of the university's first non-academic commercial development in its nearly four-century history, which will include lab and office space among other building types.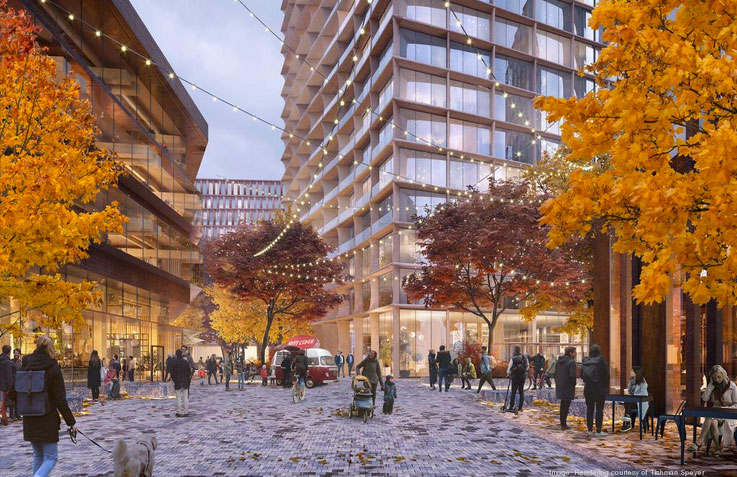 A conceptual rendering of the first phase of Harvard's enterprise research campus off Western Avenue in Allston. Harvard named Tishman Speyer the project's developer, and the project's architect is Jeanne Gang of Chicago-based architecture firm Studio Gang.
---
"One of the best things that could have happened to Massachusetts and the commonwealth overall was Cambridge getting so tight that there was no choice but for Vertex to have to move and to establish other clusters," said Jessica Hughes, regional director for Tishman Speyer in Boston, at Thursday's NAIOP panel. "It's incredibly difficult to convey what's happening in Boston, Cambridge specifically, in this market, to anyone that's not here. … It's hard to convey the enthusiasm and not seem like overdoing it."
Some 8.1 million square feet of lab development is in the pipeline in Greater Boston. For projects that will deliver this year, 73% is pre-leased. For projects coming online in 2022 and 2023, 33% and 9% are pre-leased, respectively, JLL research shows. The bulk of the development is planned in Cambridge; Boston's Seaport, Longwood Medical Area and Fenway and Allston/Brighton; Somerville; Watertown; Lexington; Waltham; and Worcester. Somerville, for one, has 3.8 million square feet of space approved or proposed, behind 4.8 million square feet approved or proposed in Cambridge and 5.5 million square feet approved or proposed in the Seaport.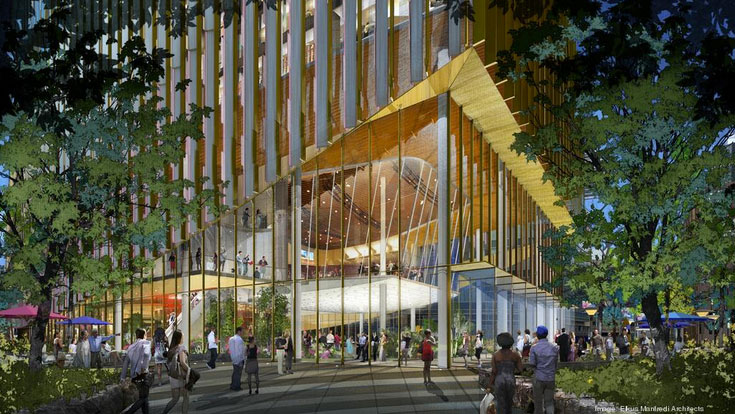 Life-science development firm BioMed Realty and Cambridge-based nonprofit arts organization Global Arts Live are partnering to create 585 Arts, a nonprofit to operate the future 300-seat theater at 585 Third St. in Cambridge, pictured in this rendering.
---
For longstanding developers like BioMed, the new development — as well as office-to-lab conversion — can't come soon enough. BioMed has a roster of more than 250 tenants in its portfolio, and its current footprint is 99% leased.
"That's a problem. That's not a good status for me to have, when I'm trying to maintain this optionality," said Bill Kane, president of the East Coast and United Kingdom markets for BioMed.
BioMed is tackling multiple office-to-lab conversions in the area, including the former John Hancock headquarters at 601 Congress St. in Boston's Seaport, a campus at 5 Middlesex Ave. in Somerville and an under-construction office development at 321 Harrison Ave. and 1000 Washington St. in Boston's South End.
"Conversions are naturally, from our perspective, a lower-risk growth mechanism. It's a way to get stabilization on a shorter timeframe on a shorter timeframe with less capital. Time to market is incredibly important right now," Kane said. "Naturally demand (from tenants) is outpacing supply, and given the capital activity we're seeing in the market, that probably is going to be the case for the next few years."
However, there are some stumbling blocks to consider. Competition is hot for Greater Boston's talent pool — a fact that caused one biotech to pass over the city in favor of Philadelphia for its headquarters — and political battles about drug pricing could hamper innovation, Coughlin said.
"The thing that scares me the most, actually, is labor. How are we going to continue to build the pipeline of employees to fill the jobs that are going to be created?" he said. "If you look at the new lab growth, that expansion in supply that we are proposing, it's going to grow employment in this industry by about 20,000 new jobs in the next five years. Where are they gonna come from?"