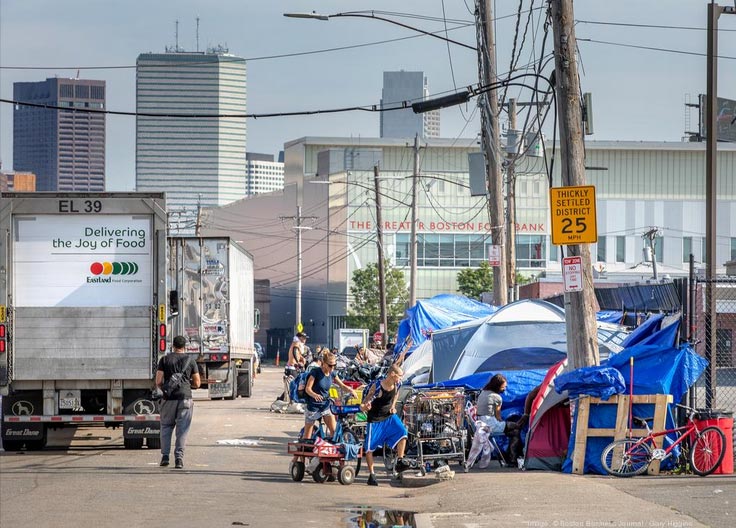 The plan calls for a new city ordinance to ban tents and encampments on city streets.
A quartet of business leaders has put forward a plan to help bring an end to the humanitarian crisis at "Mass and Cass" in Boston, pushing for a new ban on the encampments prevalent in the area as well as other shelter- and policing-related changes. The plan was drawn up and organized in recent weeks by Meredith Management President John Rosenthal, Mintz Levin partner Mark Robinson, Colliers International Boston co-chairman Kevin Phelan and security consultant Ed Davis, the former Boston police commissioner. All are members of a "breakfast group" made up of executives and other city leaders who meet regularly to talk to guest speakers on business, civic and other topics.
The executives have the ear of public officials: Mayoral candidate Michelle Wu met with the larger breakfast group on Friday, and the group plans to welcome her opponent, Annissa Essaibi George, next week. Rosenthal has been in touch with the Baker administration about the plan through Health and Human Services Secretary Marylou Sudders.
The business leaders are among the latest to float potential fixes for the worsening conditions at Mass and Cass, shorthand for the intersection at Massachusetts Avenue and Melnea Cass Boulevard, and the homelessness, drug use and health problems faced by the people there.
"If people are left to sleep on the street in a New England winter, people will die. That should be the driving force in this debate," Davis said. "Arguing about what you should do, with a net result of nothing happening, is no longer an option right now. We have to come together."
Getting people in shelters
The plan calls for greater collaboration between city agencies, with a point person who reports to the mayor overseeing the city's response at Mass and Cass. It proposes an "operational command center" in the area that features police and outreach workers and emergency and public-health personnel.
The business leaders recommend opening up more "low- threshold" shelters, which would have fewer rules than many existing options, including allowing for drug use and for couples to stay together, Rosenthal said. Under the plan, individuals would be granted ID cards through the state Registry of Motor Vehicles.
Rosenthal has decades of experience in tackling homelessness. More than 30 years ago, he founded the nonprofit Friends of Boston's Homeless, which operates its own housing programs in addition to supporting city programs. The real estate developer is known to many as the man behind the giant billboard that once stood on the Massachusetts Turnpike outside Fenway Park, exhorting passersby to back gun control.
Rosenthal said there is a "manageable" number of people living on the streets near Mass and Cass, for which shelter and temporary housing can soon be made available, possibly in hotel buildings on an emergency basis.
"We had never allowed encampments in this city until recently," he said. "We have always had homeless folks who have shied away from shelters, but they've never been allowed in unsafe and unsanitary encampments in the city of Boston."
To that end, the executives call for something that may provoke debate: a new city ordinance prohibiting encampments such as tents. Today, people move to another location if tents on a particular block are cleared, they said. Those on the street could be warned when the tents would come down and offered appropriate housing.
"We can, between the city, state and nonprofits, house these 200 people in short order, but first we have to meet these individuals where they are, and tell them they can't maintain these encampments and that winter is coming," Rosenthal said.
"The only thing standing in the way," he added, "is really strong city leadership."
Davis said that in the short term, he believes the city may be able to use existing laws to get people out of the tents and into shelters.
Policing, policy changes
The plan envisions changes in policing. The Boston Police Department should be able to share information about people on the street more easily with housing and public health officials, according to the executives. BPD district lines should be redrawn so that a single district serves the Mass and Cass area, they say — not the three that currently do. Davis said the department looked at that possibility when he was a commissioner, but that it never came to fruition for political reasons.
Under the plan, the BPD's street-outreach unit would be expanded, with a central database to be shared with the district attorney's office, court system and probation department to prioritize people in need of services. The plan also calls for a pilot "diversion" court program, to prioritize putting people into treatment programs and giving them access to mental health and medical care while in custody.
Long term, the executives endorse rebuilding the Long Island bridge and reopening the recovery campus there, and spreading treatment and housing options to other parts of the state so that they are not so concentrated at Mass and Cass.
The quartet's plan shares similarities with those floated by others. Public officials and nonprofits have worked for years to try to help people at Mass and Cass, but as the crisis has worsened and drawn more attention, more are coming forward with ideas. Suffolk County Sheriff Steven Tompkins has proposed temporary housing in a repurposed detention center, for instance, while a business group is looking to raise money from property owners for shared services to benefit employers in the area.
Rosenthal believes the business community can play a unique role in helping to solve policy-driven crises like the one at Mass and Cass. Over his career he has advocated not only for homelessness- and gun-related causes, but for improvements to police interactions with people struggling with addiction through another nonprofit he co-founded, the Police Assisted Addiction and Recovery Initiative.
"Elected officials and government tend to respond quicker, oftentimes, to the business community. For good reason — the business community generates revenue for cities and towns across the state, but really more importantly, businesspeople solve problems all day long. That's what they do," Rosenthal said. "And businesspeople and government, working together, can solve any problem that exists."