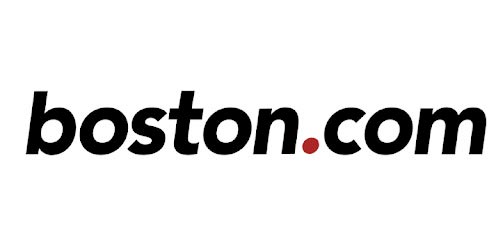 When Bower opens at 771 Beacon St. this spring, the twin-towered residential development will not only include sustainability elements that consider the environment, but "biophilic" ones to improve its residents' health and happiness.
Bower is the first phase of the long-mooted Fenway Center mixed-use, transit-oriented development abutting Lansdowne Station on the commuter rail a mere quarter of a mile from Fenway Park. The 312 apartments are projected to be completed in June.
---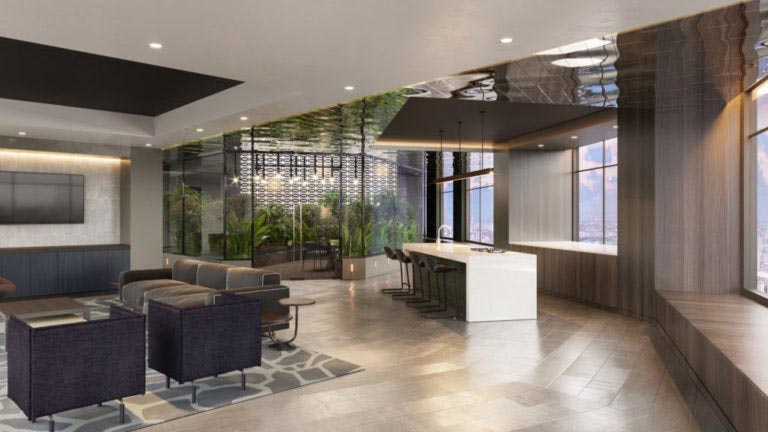 The lobby of the Bower with a view of the plant-filled atrium. Planeta Design Group
---
Biophilic design focuses on establishing connections to nature within buildings and is said to improve brain function. It can be something as simple as adding plants, but Bower won't just include a green wall and call it good.
"It's really an application of a principle throughout the design process," said Kelly Saito, managing partner of Gerding Edlen, developers of Bower along with Meredith Management and Nuveen. "A green wall is the low-hanging [fruit] of biophilic design. There are large and small initiatives, you can add few or many, but it is about the overall approach to design."
Edlen's Bower is the Oregon-based company's most extensive reach into biophilic design so far, Saito said. The development, which brought in Planeta Design Group for the interior, will include patterns and textures that honor the natural environment, such as tile with a tree bark-like texture, windows that open, curved edges, and an impressive, natural light-flooded atrium with plants.
Sustainability elements include heat pumps, condensing hot water heaters, a heat-recovery cogeneration turbine, rainwater runoff collection, and landscaping with low water needs — features all proven to reduce energy and waste.
Biophilia, however, is less tangible.
"You walk in and see something, and your body reacts," Saito said. "You might not notice, but you have an emotional and physical reaction."
But biophilic design is part of the bigger sustainability picture, he said: "We think of them as complementary in the development of Gerding Edlen buildings. We aim to be environmentally sustainable and have high-performance elements that promote health and wellness."
---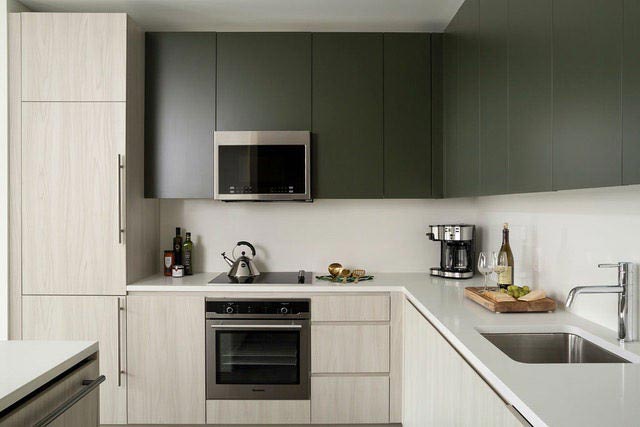 A kitchen in one of the units at the Bower. —Carly Gillis
---
Biophilia and sustainability come together in Bower's glass exterior, which is clad in View Inc.'s Smart Windows, which tint automatically, allowing open views and natural light while maintaining thermal comfort and controlling glare. This "dynamic glass" is said to reduce headaches, eyestrain, and drowsiness.
"Smart glass is the perfect example of where the two are related," Saito said. "There are benefits to health and wellness, and it cuts the amount of energy being used to heat and cool a building. We will start to see much more of this in buildings. The technology has been around a while, and it costs less to produce it now."
Bower will, however, be the first residential building in Boston to use View Smart Windows.
From the outside, though, Bower's biophilic elements won't be obvious. The building's exterior design was determined years ago, before Gerding Edlen came on board in 2017.
"Both building exteriors have sharp angles and are clad in glass and metal. It's very unnatural, of course," Saito said, "so, we're applying a natural sensibility inside that's a dichotomy between the exterior and interior."
Rents will be from $2,900 to $5,800 per month for units ranging from studios to two-bedroom homes.
Bower will be anchored by 37,000 square feet of ground-floor retail space, and a public plaza will link the pet-friendly buildings, each of which will include a natural light-flooded 14th-floor community lounge. Along with an extensive fitness center, there will be underground car parking with electric-vehicle charging stations and a bicycle park with a repair and wash station. Bower will offer free green cleaning supplies, something Gerding Edlen provides at most of its residential buildings.
Linda Laban — Realestate.boston.com correspondent