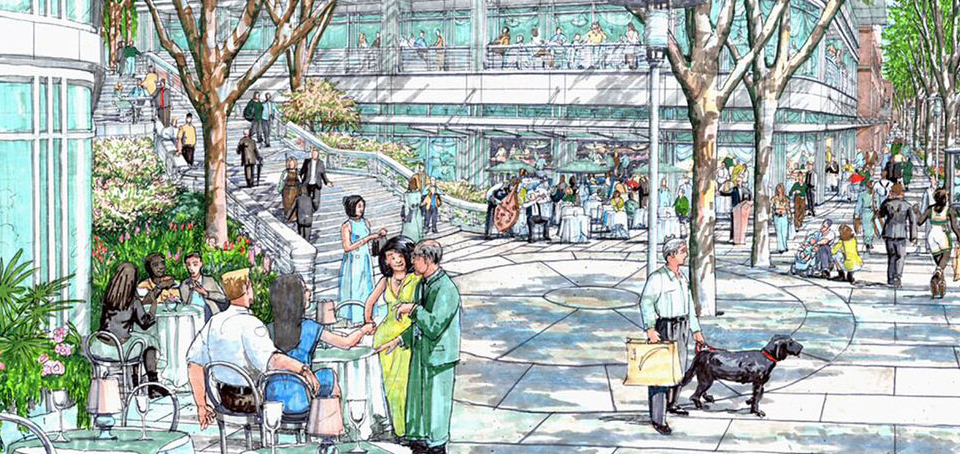 Fourteen years after he began planning a major development on land and air over the Massachusetts Turnpike at Kenmore Square, developer John Rosenthal says he is ready to start work on Phase 2 next year. Construction would commence with the part of the project that would sit on firm ground.
Talking Points | Tim Logan | June 25, 2016 | Boston Globe
On Wednesday, Rosenthal and his development partners said that they have raised $230 million in financing and expect to soon begin construction of two apartment buildings on parking lots near Fenway Park. That would be the first phase of the long-delayed Fenway Center, a nearly $600 million complex that will include three other structures over the turnpike between Beacon Street and Brookline Avenue, including a 27-story tower.
The project has long promised to accelerate the transformation of Kenmore Square. But for more than a decade it has struggled, largely because of the cost of constructing a massive deck over one of the busiest highways in Boston, as well as over a commuter rail line. So Rosenthal and the Portland, Ore.-based development firm Gerding Edlen are breaking it in two. Part one will be the apartment buildings — 313 units in all — on the corner of Beacon and Maitland streets. Rosenthal was adamant that he will still build the more difficult part over the turnpike. But splitting such a large endeavor into two is a way to make that happen, he said. The plan hinges on state officials letting Rosenthal change course.